I stand corrected. Frances isn't quite here yet. She seems to be hanging out right off the coast. Click here to check the latest satelite image. I think they said that the eye is right over the Bahamas, but we are starting to feel the effects of her. I lost my cool for a minute when a paramedic truck drove through our complex saying over the loud speaker,"You are in a flood prone zone. You are advised to evacuate to a shelter." Now I have been watching the news religiously. Why are they just now saying we are advised to evacuate?? My husband says we'll be fine since we are on the second floor. More later...

Hurricane Frances is making land fall soon, so I don't know how much longer I'll have power. As you have probably seen on the news, she has weakened. Who says prayer and postive thinking doesn't work! I really appreciate the support you all have given :) You are great! I'm not really scared anymore. Now I'm just wondering if I'll be without power for a long time. I think that my complex is on the same grid as the hospital so we may be up and running pretty quickly after all is said and done. We shall see. I will let everyone know how we faired as soon as this is all over. Thanks again!


Prepared
As you can see we are prepared for the hurricane. My husband got a little artistic with the window taping! Haha!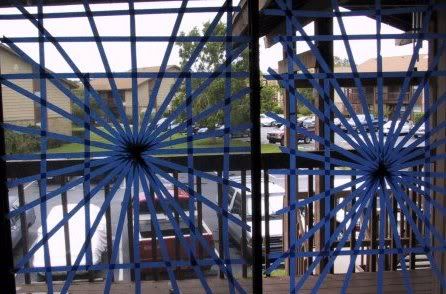 Zoe is obviously not worried about a thing...