I left work today with two bags stuffed with yarn. How much did I pay? I paid a huge whopping 15 bucks! Oh yeah baby! We just got in a bunch of new yarn, so we have a lot on clearance. I bought some Lion Brand Cotton Ease for $2 dollars a skein and some Bernat So Soft for $1 a skein. Don't you just love deals like that!

The Bernat is for my sister's Christmas present. I am pretty sure that it is safe to say what I am making her on here. I'm pretty sure she doesn't read my blog. My sister loves anything with cherries. Her kitchen is decorated in cherries. I gave her a cherry purse last year and she just took a fit over it. I have decide to design a hat and scarf that have cherries on them. I guess you would call the style of the hat a cap. The brim isn't going to fold or roll up. I think I will do a couple rows of seed stitch so that it won't roll up. I drew it in photoshop. Please excuse the amateur drawing.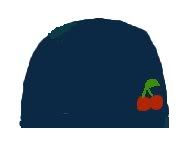 Well, you get the general idea anyway. The scarf will be Stockinette knit in a tube and will have the same two cherries on each end. I think she will love it. I chose acrylic yarn for her, because she is a very busy mom. She doesn't have time to worry about hand washing or dry cleaning anything. She needs something that you can toss in the washer and dryer.
I am going to start this hat after I finish the long awaited Fair Isle Bag and Ribby. I wish that I had time to knit more. I need a nice desk job with a boss who appreciates some good ole multitasking ie. knitting and working! Haha! A girl can dream can't she??