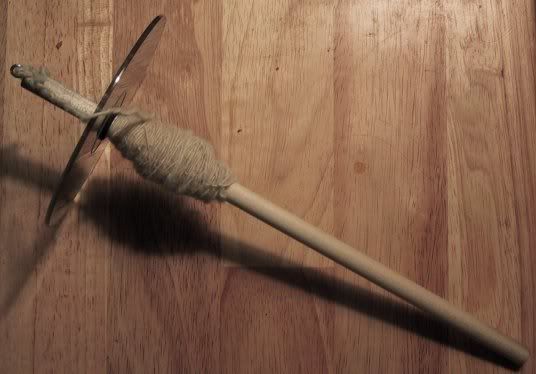 I can spin! Woohooo! I learned how today during my first Spinning Guild meeting. We made our own spindles out of CD's and wooden dowels, and then we got our first lesson in spindle spinning. It was honestly and incredible experience. Ever since I was a kid I have been fascinated with the process of creating fabric from wool, cotton, and other fibers, and now I have actually participated in it. When I learned how to crochet at five I was amazed with what you could create with a just a hook and yarn. When I knit my first socks, I just couldn't believe that two sticks and yarn made them! Now I can even make the yarn! I may not be good at it yet, but by golly I can do it. I still have this great
pink roving
that Janette gave me, but I want to practice a bit more before I attempt to spin it. It is so pretty, and I don't want to ruin it.
If you would like to make your own CD spindle
Click Here
. It was really easy to make, and Rhonda said that it spins just as good as her other spindles. She has to be the craftiest woman ever, so I believe her! There are many resources for spinning on the internet, so I'll post a few links for those of you interested in learning to spin. Enjoy!
I Can Spin
The Joy Of Handspinning
The Bellwether

Spin Off